Kinney says that, unlike Mimi,
"I get real quiet when I'm angry."
Kathy Kinney makes no secret about what is in her bag o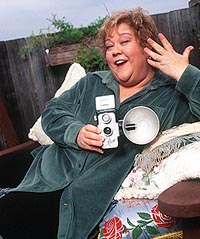 f
tricks: five shades of blue eye shadow, a
bottle of black liquid liner, false lashes,
scarlet blush, three shades of red lipstick
and (for cleaning purposes) a pack of
Chubs baby-bottom wipes. That cosmetic
concoction is what transforms the
amiable walk-on performance into a
regular role, "but they're always saying,
`You're such a pretty girl, Kathy. Why do you wear so much makeup?'
Because it works, of course. Sporting two islands of eye shadow that
nearly reach her hairline--and an attitude the size of Long Island--
Kinney plays a confrontational department-store assistant who is
coworker Carey's worst nightmare. The comic, combustive mix
between the supporting actress and the show's rumpled star has
turned Kinney into a fan mail target for everyone from Texas prison
inmates to New York City drag queens. It has also helped keep the
Wednesday night sitcom, now in its second season, in Nielsen's Top
20.
Kinney took to her war-painted character with gusto. In the second
episode, "I had to hand Drew this envelope, and as soon as I started to
hand it to him, I decided to cough on it," she says. "In that moment,
Mimi was born." Since then she has been impossible to ignore, telling
off coworkers with her trademark "bite me" retort while constantly
giving Carey the back of her hand and sometimes the bottom of her
boot.
The Only KathyKinney Goddess Page
PHOTO: Neal Preston/Outline